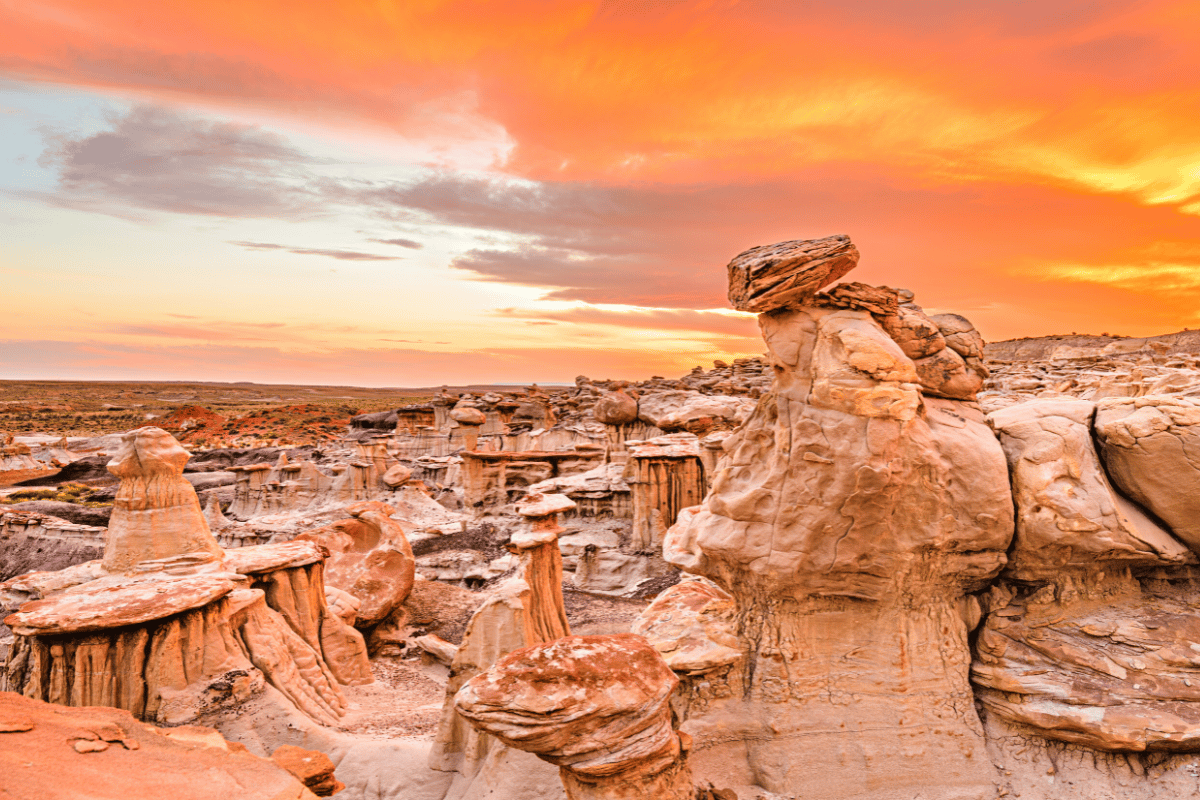 New Mexico is known for so many things — but wilderness? Yep, that, too. Take a trip and explore the Bisti Badlands: New Mexico's great wilderness.
If you're planning a trip to New Mexico (or even to northeast Arizona) and you've got an open slot in your itinerary, add the Bisti Badlands just south of Bloomfield and Farmingham. If you don't have a timeslot open, erase something and add this as your next stop. Even if it's a lengthy detour from where you are or where you're going, you won't regret it — plus, camping is allowed in the parking lots, so if you're bringing your RV, your bed will be waiting at the end of a long day of exploring.
The Bisti Badlands and De-Na-Zin is a wilderness area, including varied rock formations spanning over 45,000 acres. The sheer array and number of formations will blow your mind. Some are so unique — like one that's called the Alien Throne — they have names. Cracked Eggs, Petrified Logs, and Alien Eggs are all different rock formations or collections that look exactly like their names describe. One expanse of table-top formations is vast and has the appearance of wings spreading to take off into flight, aptly named simply Wings.
Around every literal nook and cranny is a different type of rock formation. The pull to run through these badlands exploring till your heart's content is strong, but make note: the phrase "middle of nowhere" was originally referencing the Bisti Badlands. Make sure you have some method of maintaining your orientation — a compass — to keep your bearings. There is cell phone service throughout most of this wilderness area, but there are some spots where service is spotty.
New Mexico has many off-the-beaten-path, must-see areas like this and is truly one of the most underrated states in the nation. Chaco Canyon is just 40 miles away and also on SR-371. A few miles before you get to Chaco Canyon, you'll see Fajada Butte, which is another worthy stop. Chaco Canyon is special for the ancient ruins there. These ruins were occupied over a thousand years ago between 900 and 1250 AD. If you're considering adding Chaco Canyon to your list, you'll need a four-wheel-drive truck with high-clearance to maneuver the terrain.
If wild, adventurous getaways are how you do vacations, see you at the Bisti Badlands!