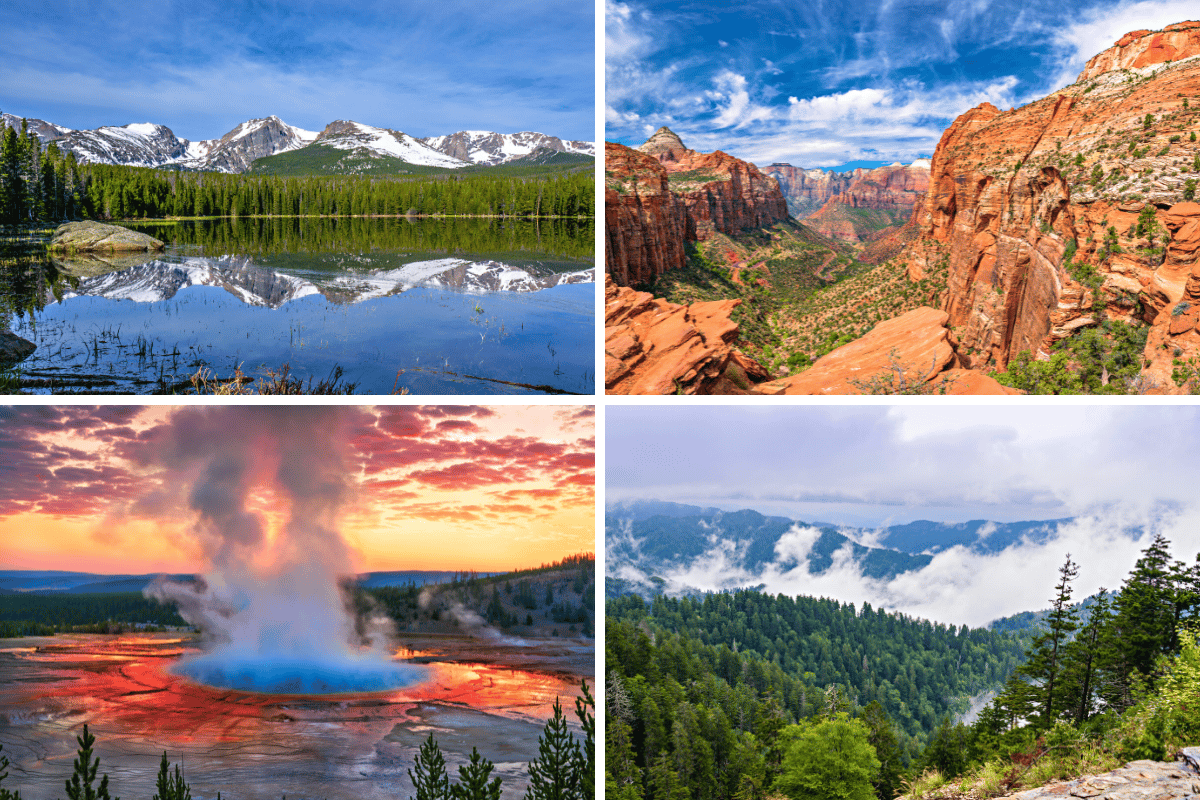 National parks are found all across the United States and offer a way to see the most beautiful, hidden gems a state has to offer. The following four national parks are the country's most beautiful—and the most visited.
#4: Rocky Mountain National Park
This Colorado national park gets over 3 million visitors every year. It's one of the largest parks, too, coming in at just over 400 square miles. At Rocky Mountain National Park, you can see all kinds of wildlife, such as elk and bighorn sheep, and explore the back-country's ample hiking trails. If hiking isn't your thing, you can also experience the park via one of the many scenic drives. See the incredible old-growth alpine forests, meadows, and so much more without ever stepping foot out of your vehicle.
#3: Zion National Park
Utah has some of the country's most beautiful parks, such as Arches National Park and Canyonlands National Park—but Zion National Park was the state's first park to earn the status and is definitely the most popular, welcoming over 3.6 million visitors annually. The landscapes are defined by dramatic canyons and impressive cliffs, where you can hike, climb, bike, birdwatch, or stargaze—it's all up to you.
#2: Yellowstone National Park
This national park isn't just in one U.S. state—it's in three. Yellowstone covers portions of Idaho, Wyoming, and Montana. It's also the very first national park to earn this status in the world. Yellowstone was established in 1872 and is home to over 2 million acres of meadows and forests, as well as its main attractions, the unique hydrothermal vents that offer up dazzling shows as well as thermal springs such as Mammoth Hot Springs and, of course, Old Faithful. Yellowstone sees almost 4 million visitors every year.
#1: Great Smoky Mountains National Park
The Great Smoky Mountains snake their way throughout North Carolina and Tennessee and lure over 12 million annual visitors, making this national park the most-visited in the nation. The park is best known for its variety of wildlife, its many waterfalls, and the fogbank against the mountains. This is a park that worth seeing at any time of year. Scenic opportunities and activities abound, such as hiking the many trails—but the park is exceptionally beautiful in the fall when the leaves come alive with fiery reds and golds.
Which of these top 4 most beautiful (and most visited) national parks are on your itinerary?